Join the vanguard of hospitals with a Service Evaluation of MSERV, the new pain management system. We are particularly welcoming hospitals who wish to put in a full working version in specific wards with a view to rolling out upon completion.
Available today
Mobile app and real-time dashboard
Designed to be used by patients and medical professionals
Improves patient experience and informs clinical decisions
Result of 5 year research and development project
Clinical trials at University College London Hospital (UCLH)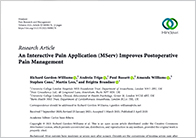 In April 2021, a peer-reviewed journal article was published covering the clinical trials of MSERV. The article entitled 'An Interactive Pain Application (MServ) Improves Postoperative Pain Management' is available open access via Hindawi. To read the report, please click here
In February 2020, MSERV was deployed for the first time in BT Customer Showcases located at Adastral Park, the applied research campus where world-first and world-leading technologies have been created. The 'Pulse' showcase has been through a refresh and MSERV now features with other amazing leading-edge technology. To learn more, please click here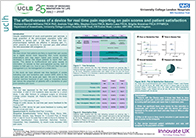 Click here to download a PDF version of the academic poster presented Dr Brigitta Brandner and Richard Gordon-Williams at the International Association for the Study of Pain (IASP) 17th World Congress on Pain, Boston, MA, United States 12-16 Sept 2018.
MSERV technology helps patients, pain teams and hospital administrators.
MSERV is a deep tech company which aims to assist Global Digital Exemplars and others in the NHS to deliver exceptional care, efficiently. It does this by producing digital answers to the most common problems – starting with pain management. With healthtech developed, tested and ready for use in peri-operative environments, MSERV will transform the experience for Patients, Pain Teams and Hospital Administrators.

Patients
From your hospital bed, using your own smartphone, you can simply and easily report you own pain score to MSERV whenever you like. Your scores are saved to your record and sent to the pain team. MSERV can give you helpful content to read about your type of operation. Some versions of MSERV come with videos to watch and even games to play that help you take your mind off the pain.

Pain Teams
On or off the ward, you can see pain scores reported by your patients to MSERV in real time. The system can inform your decisions. Outcomes include a better care experience for the patient, reduction in the pain they feel, more timely treatment for pain as well as better routing for you. This means that before, during or after a busy ward round, you can look after your patients more quickly. You no longer need to worry about over- or under-reporting of pain.

Hospital Administrators
With data analytics this powerful, nursing and consultant time can be better optimised and post-operative patient satisfaction improved. MSERV's QOR-15 questionaire gives accuracy of feedback without being onerus for the patient or staff to collect. This means that the analysis MSERV delivers can contribute to CQUIN scores and could reduce length of stay for some patients.